Pixelart App Icons
Free icon pack that I designed for myself, and decided to share with the internet. Open for icon requests!
The asset pack is focused on android/windows, but you can request icons for any other system and I'll make them as well.
You can request new apps or icons here: https://docs.google.com/forms/...
I will be updating the set periodically as icons are requested.
Donations for this asset pack are disabled for legal reasons. But you can donate towards my other content on my itch page or support me as a creator on patreon!
Content
97 App Icons

31 Standard Icons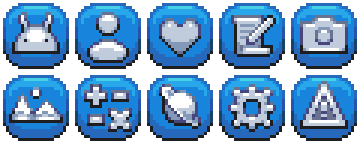 10 Color variations for standard icons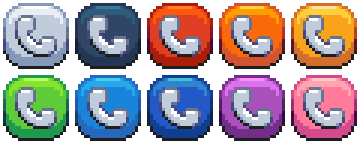 Technical details:
All Icons are 24x24
Standard icons come in 10 colors (White, black, red, orange, yellow, green, light-blue, blue, purple, pink)
All icons have the same shading (Shaded outline with lightsource at the top)
Licence Overview:
-You CAN edit and repurpose the assets.
-You CAN NOT redistribute / resell the assets.
This license allows adaptations of this work to be shared in any way, as long as it's attributed to me, but it forbids commercial uses of the work. This is not a Free Culture License.

__________________________________________________
Follow me for updates on my projects and Asset Packs!
Twitter: https://twitter.com/Reff_SQ Instagram: https://www.instagram.com/reff_sq/ Reddit: https://www.reddit.com/user/_Reff ___________________________________________________
Install instructions
The icons are currently saved as png's, in their original size (small 24x24 pixels) and in a bigger version (240x240). I have also included an .ico version of the bigger sized icons.

There is a folder inside each category called "Standard icons". This contains icons designed by me of simple symbols on top of a colored background.
Comments
Log in with itch.io to leave a comment.
Is it just the icons that are associated with an existing company that are not available for commercial use?
Nice icon + used them at my PPT operating system, I credited the icon also
EL DUOLINGO ESTA HERMOSOOOO
The content you provide on this indie plateform is uniq and amazing :) Keep going !
perdon si sueno estúpido con esto pero... como hago para cambiar los iconos?
Do you have a patreon icon ? If not pweaaaaaaaaasssssssssseeeeeee
What about mobile game icons? 😳
Also, you are spanish, i realized in screenshots 😎
I am! 😅
And about mobile games: Maybe. Depends on how many people request them, I already had a few requests for minecraft
yo, that is cool, i will be following this project, maybe you could do a small video tutorial on how to change the app icons on mobile and put it in the page so new people can install it without even searching for this specifically
Well, making a tutorial is an unjustifiable amount of extra work for a free project like this. All I really wanted to do is share the icons I made for myself with other people, and to have a small project to keep updating when I don't know what to do.
It blew up a bit more than expected, but I still can't justify making a video for it (Especially when there are hundreds of similar videos already out there)
Really impeccable quality, nice work! I guess "it forbids commercial uses of the work" means you can't use these in commercialized games? Quite a shame, since there's a real lack of HQ pixel-art social icons out there :P

I would love for people to use them in games: But I had to choose that licensing because app icons are in a bit of a gray legal area. They are copyrighted company logos, after all.
If you use it on a game I wont do anything about it, its just a thing that had to be written to avoid legal issues.
And thanks for the compliments! I'm glad that tou liked the assets 😄